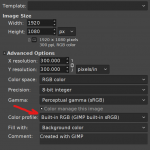 Recently with GIMP, I had to export an image in PDF with the CMYK color model ("quadrichromie" in French) for a professional printer. It has been a hard task, because:
CMYK is not included by default in GIMP
All the tutorials on the web rely on the Adobe ICC profile file for CMYK, which is not available anymore (and even if it still was, I prefer not use something from Adobe)
How to do it
So, to save you from painful hours of research in the world of ICC profiles, here is how to export with the CMYK color profile with GIMP, in a few minutes:
Download this CMYK ICC profile. If it does not work, try this mirror (see below where this file comes from).
Open GIMP and create a new image.
In the creation window, open "Advanced options".
In "Color profile", select "Select color profile from disk", then select the file downloaded at step 1.
Hit OK to create the image.
Now you have a brand new image that will be exported with CMYK next time you export it.
Why this specific file?
Maybe you are wondering where I found this CMYK ICC profile file? On the official ICC website you can find a list of all registered ICC profiles. But which one should you choose to print with CMYK?
In this detailed article of IBM about ICC profiles, they say:
If you save an image by using the CMYK color space, make sure that you either save an ICC profile for that color space or use a standard non-device specific CMYK color space like SWOP or Coated FOGRA27 and associate the appropriate ICC profile with the image.
So back to the ICC list, I selected one of the SWOP files (the one I provide in this article), exported my image with this profile and sent it to the professional printer for a test. He said that the file was perfect 😉